You're Invited
Suncoast Harmony Chorus is more than just a Sweet Adeline chorus, it is a family. We love getting together each week, and sharing friendships as well as great music.
If you like to sing, you're invited to visit Suncoast Harmony Chorus and discover your INNER DIVA! Sitting in on one of our rehearsals is the perfect way to find out more about us, and what we can do for you!
You'll have the opportunity to hear us perform four-part harmony, and you'll be invited to join us on the risers to experience the music, friendship and fun for which Suncoast Harmony Chorus is known!
Come to a Rehearsal
When?
Guests are welcome to view any Suncoast Harmony Chorus rehearsal, Tuesdays at 6:30pm.
Where?
191 Astaire Lane Spring Hill, FL 34609
Why?
There are so many reasons to join! Spend time with a wonderful group of women, learn some amazing, classic songs, and get a chance to perform and strut your stuff!
Who?
You!!! Come and discover your inner diva!
Women of all ages are invited to attend. For more information, contact Cindy at 352-597-4376 . If you're a woman who loves to sing, we'd love to meet you! Our members travel from all over our area to sing with Suncoast Harmony Chorus. To quote one of our members, "It's the love of singing that brought me to Suncoast Harmony Chorus. It's the enthusiasm, fun and lasting friendships that keep me returning week after week. I love it!" Visit us and find out for yourself!
---
The Next Step
So you're interested in joining!
Visit a Rehearsal
Guests are always welcome at our rehearsals.
We rehearse Tuesdays at 6:30pm at
Salishan Gracious Retirement Living
191 Astaire Lane
Spring Hill, FL 34609
Car Pools
Car Pools available for everyone.  Give anyone listed below a call and arrangements will be made to pick you up or give you driving directions.  More Important!  Please come!
            Cindy 352-597-4376  
Please contact us to let us know you're coming.
Volunteer!
Another wonderful way to show your love of Suncoast Harmony Chorus is to sign up for some occasional volunteer time at one of our events. People who sign up often feel like it's much more fun than work. You get to hang out with a wonderful group of women, and support great music!
If you would like to offer to assist one of our events, please contact us. Be sure to let us know what talents you'd like to share. Here are a few areas we often need help with:
Ushering & Ticket Handling
Riser setup/teardown & transportation
Help with mailings
Solicit patron surveys
Hand out flyers
Provide transportation for coaches, quartets, etc.
Photography
Many more opportunities available!
Recent news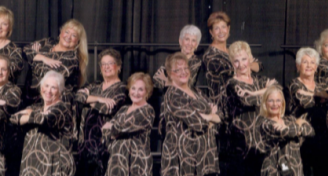 November 10, 2023 - 10:30am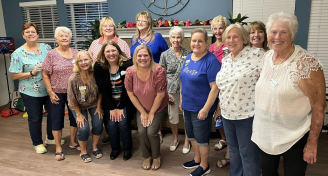 November 8, 2023 - 11:11am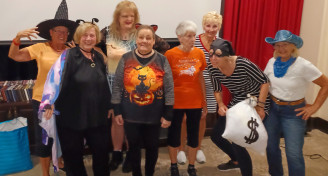 November 8, 2023 - 10:48am